The Scoped Kar98k is a bolt action sniper rifle in the game. It can only be obtained from the sniper cabinet in the Nact der Untoten remake and the Mystey Box.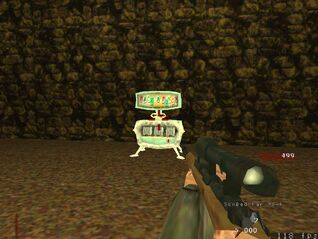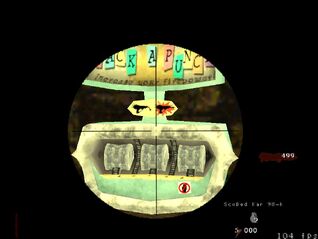 Weapon Details
This weapon is actually a very powerful weapon, which is odd, due to the un-scoped Kar98k being a terrible weapon (This may be due to Historic , Match Ammo, which used heavier, faster bullets,). Reloads one round at a time, similar to the trenchgun, recomended perks with this weapon: Speed Cola, Double Tap, and Juggernoug. Also recomended with Bowie Knife, and an decent automatic weapon (e.g. Thompson)
Trivia
In the psp alpha 1.2, the normal k98k is 1 bullet , X the round number you are on to kill the zombie. The scoped k98k, however, will 1 shot 1 kill untill about round 16-17, where it will make crawlers.
In real life, the scoped k98k was dubbed, the ZF-41, and was issued with more precise and consistant ammo.
The scope is in the wrong position in Game.